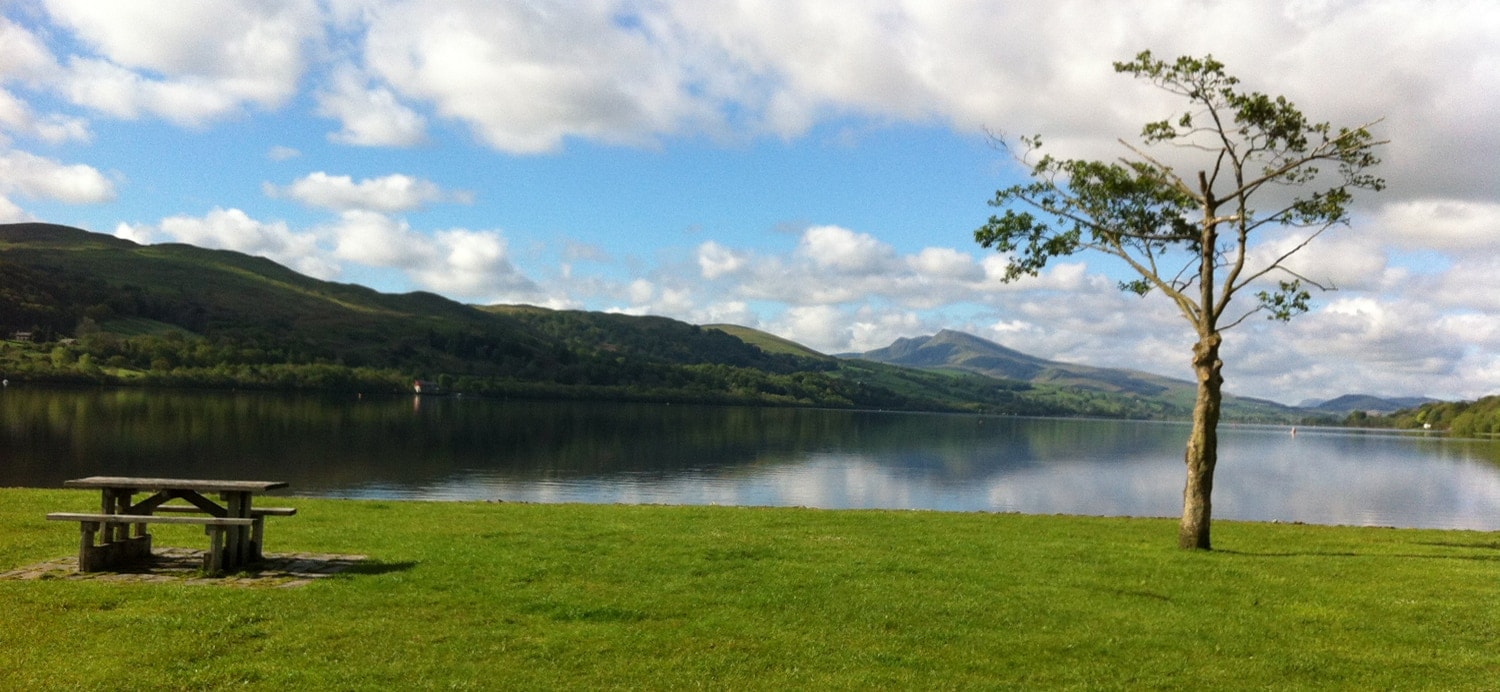 WHY THE LLYN TEGID CHALLENGE?
Part of the Three Lakes Challenge
With stunning mountain scenery, beautiful picnic spots and rare wildlife; the Llyn Tegid challenge route is a fantastic choice for people with less experience, or those looking to build up their experience before embarking on one of our longer challenge routes.
As with all the routes, as well as enjoying the challenge and stunning locations, always ensure sensible planning, be aware of local information and follow safety guidance. Good luck, and make sure you read all of the safety guidance in the Information Pack below before starting your adventure!

Challenge Links and Downloads
View Challenge on Map
Register and Upload Your Time
Completed the challenge? Then use the button below to register yourself and upload your time. We'll send you a certificate of congratulations. You'll also get on the Leaderboard.
Leaderboard
| Position | Name | Date | Time | Boat/Craft |
| --- | --- | --- | --- | --- |
| 1 | Allistair Swinsco, Dean Dunbar, Ian Cormack | 17th July 2016 | 40 mins 2 secs | Stand Up Paddle Board |
| 2 | paul mayers | 13th January 2022 | 45 mins | Open Canoe |
| 3 | Claire Jackson & Jenny Spencer | 19th July 2019 | 52 mins 15 secs | K2 Kayak |
| 4 | Gary and Oscar Partridge | 1st June 2018 | 54 mins | Not specified |
| 5 | Gary Partridge and Oscar Partridge | 17th August 2017 | 55 mins | Not specified |
| 6 | Chris Partington & Eric Lunt | 12th August 2019 | 57 mins | Recreational Kayak |
| 7 | Mark and Samuel Jadav | 1st June 2018 | 57 mins | Not specified |
| 8 | Craig Duff and Steph Roberts | 19th August 2016 | 57 mins | K2 Kayak |
| 9 | Matthew and Jasmyn Thomas | 1st June 2018 | 58 mins | Not specified |
| 10 | Ella and Miriam Walsworth-Bell | 1st June 2018 | 1 hr 10 mins | Not specified |
| 11 | Patrick Kinsella, Richard Snow and Neil Gilmour | 8th July 2017 | 1 hr 12 mins | Not specified |
| 12 | Cameron and Lee Anne Crawford | 31st July 2020 | 1 hr 12 mins 53 secs | Touring/Sea Kayak |
| 13 | Paul Postill and Cassie Byers | 17th August 2017 | 1 hr 13 mins | Not specified |
| 14 | Alan Minister and Tim Styles | 1st June 2018 | 1 hr 22 mins | Not specified |
| 15 | Ollie Nawrat | 21st June 2022 | 1 hr 22 mins 19 secs | Stand Up Paddle Board |
| 16 | Alan Owen | 12th August 2020 | 1 hr 23 mins 40 secs | Touring/Sea Kayak |
| 17 | Steve and Julie Watt | 31st October 2015 | 1 hr 26 mins | Not specified |
| 18 | Team HC | 1st May 2016 | 1 hr 27 mins | Not specified |
| 19 | Nick and Dave Watt | 1st November 2015 | 1 hr 29 mins | Not specified |
| 20 | Bill Sharpe | 17th August 2017 | 1 hr 33 mins | Not specified |
| 21 | Peninsula Canoe Club | 4th July 2015 | 1 hr 38 mins | Not specified |
| 22 | Alan Owen | 2nd August 2020 | 1 hr 44 mins 31 secs | Touring/Sea Kayak |
| 23 | David Andrews | 3rd July 2016 | 1 hr 46 mins | Not specified |
| 24 | Avon Aardvarks | 21st May 2022 | 1 hr 49 mins 52 secs | Open Canoe |
| 25 | Craig Atkinson | 17th August 2019 | 1 hr 52 mins 20 secs | Touring/Sea Kayak |
| 26 | Aubin de Gruchy | 17th August 2019 | 1 hr 52 mins 20 secs | Recreational Kayak |
| 27 | Milton Keynes Canoe Club | 30th April 2016 | 1 hr 57 mins | Not specified |
| 28 | Graham Wells | 25th May 2015 | 1 hr 57 mins | Not specified |
| 29 | Foxy & Garland | 25th May 2019 | 2 hrs 55 secs | Touring/Sea Kayak |
| 30 | Patrick and Stephanie Wallace | 6th June 2016 | 2 hrs 2 mins | Not specified |
| 31 | Chris Bowler | 4th May 2019 | 2 hrs 6 mins 55 secs | Touring/Sea Kayak |
| 32 | Peter Roscoe, Paula Sharples and Alan Blackburn | 2nd April 2015 | 2 hrs 8 mins | Not specified |
| 33 | Vincent Boyle, Philip Pearson | 15th June 2019 | 2 hrs 10 mins | Touring/Sea Kayak |
| 34 | Chris and Christine Eves | 24th April 2017 | 2 hrs 10 mins | Not specified |
| 35 | Geoff and Jane Blease | 2nd November 2015 | 2 hrs 10 mins | Not specified |
| 36 | Gareth Roose-Williams | 16th October 2022 | 2 hrs 12 mins 12 secs | Inflatable Kayak |
| 37 | Brian and Harrison Wardell | 2nd October 2016 | 2 hrs 15 mins | Not specified |
| 38 | U IDIOTS 2 | 26th June 2021 | 2 hrs 17 mins | Inflatable Kayak |
| 39 | Jo Laird | 13th May 2019 | 2 hrs 18 mins | Stand Up Paddle Board |
| 40 | Andrew Fryer-Kelsey, Joshua Fryer-Kelsey and Tim Redfern | 18th August 2018 | 2 hrs 20 mins | Not specified |
| 41 | John Salt | 25th May 2016 | 2 hrs 20 mins | Not specified |
| 42 | Nathan Parry | 1st October 2016 | 2 hrs 21 mins | Not specified |
| 43 | Broadsword | 21st October 2018 | 2 hrs 22 mins | Not specified |
| 44 | Sutton Coldfield Sea Cadets | 17th August 2018 | 2 hrs 22 mins | Not specified |
| 45 | Ian Williams and Syreena Maskell | 11th November 2017 | 2 hrs 23 mins | Not specified |
| 46 | Chris Moore, Ilona Ulme and Kaysee the dog. | 4th August 2017 | 2 hrs 25 mins | Not specified |
| 47 | Carwyn Humphreys | 11th July 2020 | 2 hrs 26 mins | Stand Up Paddle Board |
| 48 | Lizzie James | 24th March 2022 | 2 hrs 26 mins 51 secs | Stand Up Paddle Board |
| 49 | Riann Sheehy | 5th August 2018 | 2 hrs 30 mins | Stand Up Paddle Board |
| 50 | Roger Chandler | 30th September 2016 | 2 hrs 30 mins | Stand Up Paddle Board |
| 51 | The Dowson Family | 18th March 2015 | 2 hrs 30 mins | Not specified |
| 52 | Shropshire Paddlesport | 22nd August 2015 | 2 hrs 30 mins | Not specified |
| 53 | William, Caden and Oliver Horsely | 13th August 2016 | 2 hrs 30 mins | Not specified |
| 54 | Demelza & Robert Edwards with Benji & Speckle! Our Dogs | 4th August 2022 | 2 hrs 34 mins 12 secs | Open Canoe |
| 55 | Joseph Rosenfeld | 1st August 2015 | 2 hrs 49 mins | Not specified |
| 56 | Allen's | 22nd June 2018 | 2 hrs 59 mins | Not specified |
| 57 | David Manners and Phil Donaghue | 26th October 2016 | 3 hrs | Stand Up Paddle Board |
| 58 | Elaine Nunns | 18th June 2016 | 3 hrs | Not specified |
| 59 | Sian Sykes | 13th May 2016 | 3 hrs | Stand Up Paddle Board |
| 60 | Paige E. & Luis W. | 27th January 2022 | 3 hrs 6 mins 10 secs | Stand Up Paddle Board |
| 61 | Jonathan Habberjam | 10th August 2017 | 3 hrs 30 mins | Not specified |
| 62 | Kathy Jax | 2nd June 2022 | 3 hrs 37 mins 21 secs | Recreational Kayak |
| 63 | Gav, Shell, Lucy, Amy and Tom Grayston | 14th September 2014 | 3 hrs 44 mins | Not specified |
| 64 | Anna & Kathy Jax | 2nd June 2022 | 3 hrs 47 mins 21 secs | Stand Up Paddle Board |
| 65 | The Murphy's | 11th July 2018 | 4 hrs | Not specified |
| 66 | Leam Boat Centre - Adults and children | 21st September 2016 | 4 hrs | Not specified |
| 67 | Neil Teare with Ian, Georgia & Daniel Nichols | 27th August 2015 | 4 hrs 20 mins | Not specified |