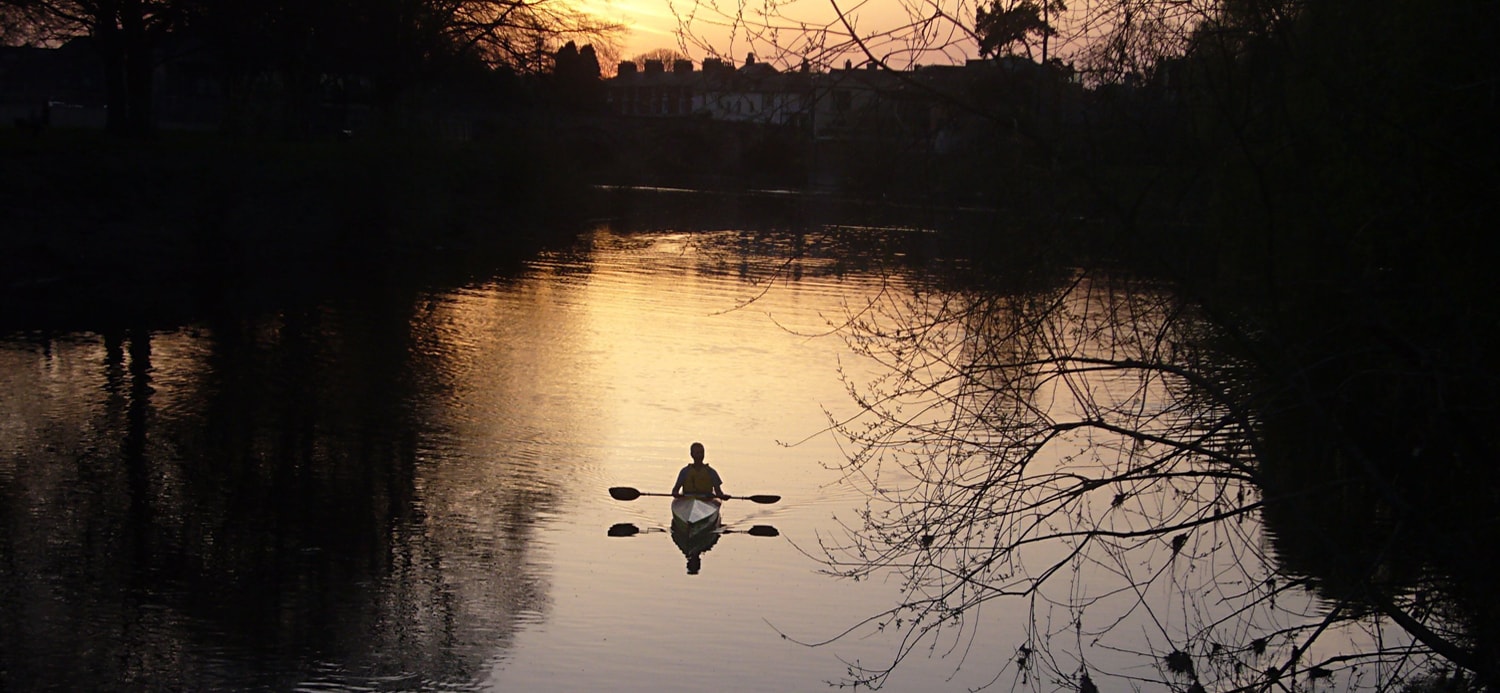 WHY THE RIVER WYE 85 MILE CHALLENGE?
Now here's a REAL challenge. The River Wye 85 Mile Challenge is our longest route. Designed to be taken on over multiple days, this beautiful challenge takes you on a journey along the border of England and Wales.
The Wye is regarded as one of the finest lowland landscapes in Britain with plants and animal life of international importance. On the river you can see kingfishers, otters and salmon. In the Forest of Dean, wild boar and deer roam freely.
The route is mainly flat water with some simple grade 1 rapids and fast moving water as well as a grade 2 rapid at Symonds Yat.
Enjoy the unspolit wonders of the Wye as you challenge yourself to complete this adventure. Take on the route at a leisurely speed or try to bust it. Either way, register your completed challenge with us to receive your certificate and get on the leaderboard.

Challenge Links and Downloads
View Challenge on Map
Register and Upload Your Time
Completed the challenge? Then use the button below to register yourself and upload your time. We'll send you a certificate of congratulations. You'll also get on the Leaderboard.
Leaderboard
| Position | Name | Date | Time | Boat/Craft |
| --- | --- | --- | --- | --- |
| 1 | chris moore and illona ulme | 16th - 19th Jun 19 | 15 hrs 24 mins | Open Canoe |
| 2 | chris moore and illona ulme | 16th - 19th Jun 19 | 15 hrs 24 mins | Open Canoe |
| 3 | Vincent Boyle Philip Pearson Robert Simpson Trailblazers | 7th - 10th Oct 19 | 15 hrs 30 mins 43 secs | Touring/Sea Kayak |
| 4 | Paul O'Dwyer | 22nd - 23rd Oct 21 | 16 hrs 49 mins 43 secs | Stand Up Paddle Board |
| 5 | Martin Radford & Andrew Osbaldiston | 17th - 20th Sep 20 | 18 hrs 32 mins 49 secs | Sit on Top |
| 6 | Simon & Helly Powell (bipaddle shenanigans) | 26th - 29th Oct 22 | 19 hrs 28 mins 15 secs | Open Canoe |
| 7 | Will & Cadey Horsley (& dog) | 21st - 24th Aug 20 | 20 hrs | Open Canoe |
| 8 | Michael Coombes | 20th - 23rd May 22 | 20 hrs 32 mins | Recreational Kayak |
| 9 | Darren Parkin | 17th - 19th Jun 22 | 22 hrs 30 mins | Open Canoe |
| 10 | Lizzie Crosby | 29th Apr - 1st May 23 | 22 hrs 54 mins | Inflatable Kayak |
| 11 | Henry Crosby | 29th Apr - 1st May 23 | 22 hrs 54 mins | Inflatable Kayak |
| 12 | Matt Dent, Alex Farrow, Adam Selby, Will Waters | 12th - 14th Aug 21 | 24 hrs 29 mins | Inflatable Kayak |
| 13 | Sarah Jones | 4th - 7th Apr 23 | 24 hrs 42 mins | Stand Up Paddle Board |
| 14 | Martin Radford & Andrew Osbaldiston | 17th - 20th Sep 20 | 25 hrs 52 mins 43 secs | Sit on Top |
| 15 | Louise, James, Charlie (11) and Laurie (8) and Obi the dog | 12th Aug 18 - 17th Aug 19 | 25 hrs 55 mins | Open Canoe |
| 16 | Pentonville Wye 100 Team | 3rd - 6th Jun 19 | 26 hrs 10 mins 40 secs | Open Canoe |
| 17 | Cath and James Coolican Smith | 26th - 29th Jul 19 | 29 hrs 29 mins 3 secs | Crossover Kayak |
| 18 | Gary French | 15th - 17th Jun 21 | 29 hrs 58 mins | Inflatable Kayak |
| 19 | GORDON GALE | 29th Jul - 2nd Aug 20 | 32 hrs 48 mins | Open Canoe |
| 20 | Richard and Andrew COE | 14th - 16th Jul 22 | 34 hrs 22 mins | Recreational Kayak |
| 21 | Andrew Coe | 14th - 16th Jul 22 | 59 hrs 24 mins | Recreational Kayak |
| 22 | Oliver Jones | 31st Aug - 4th Sep 21 | 91 hrs 27 mins | Touring/Sea Kayak |
| 23 | Adam Coyne Adam | 1st - 4th Sep 21 | 91 hrs 27 mins | Inflatable Kayak |