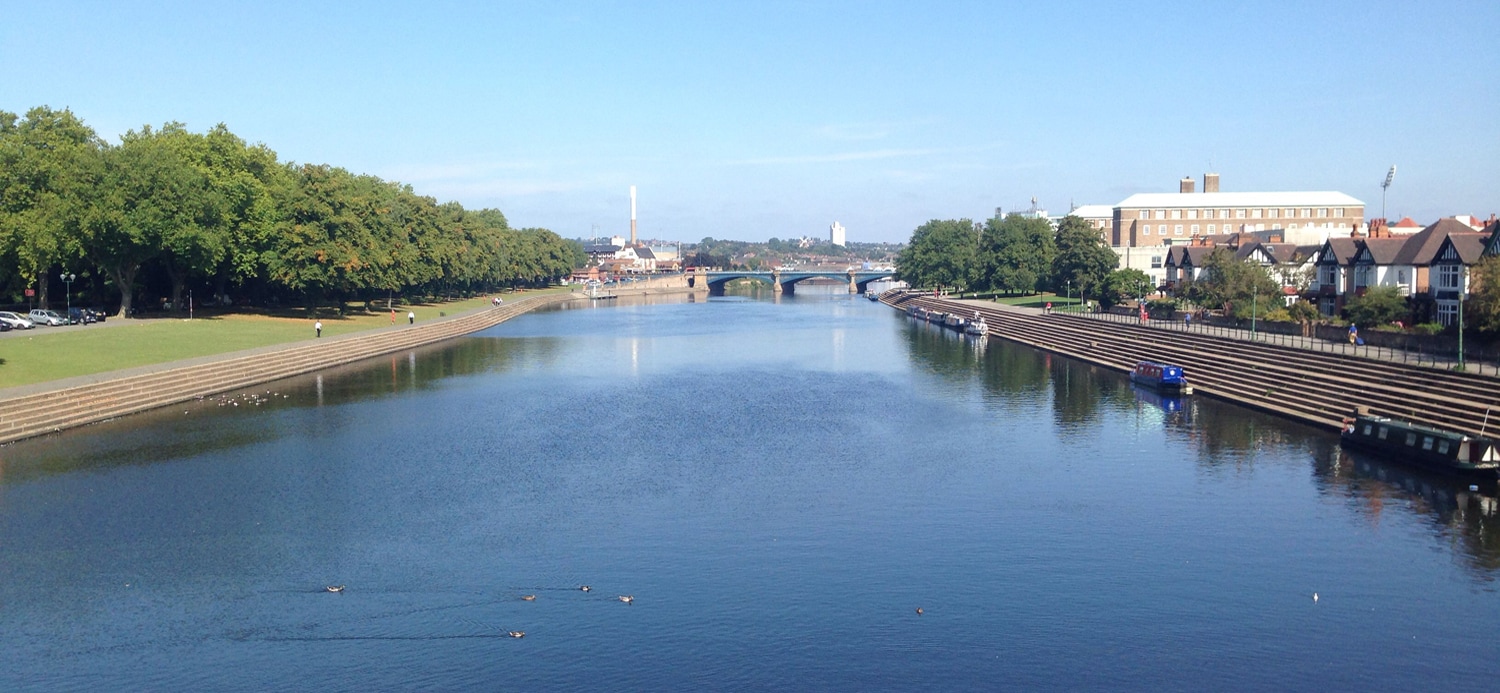 WHY THE TRENT LOOP CHALLENGE?
Nottingham's waterways, including the river Trent Loop Challenge, offer a fascinating glimpse into the rich heritage of the city.
Voted 'Home of English Sport' by Visit England in 2015, this challenge certainly reflects its rich sporting background.
On your route you will be able to spot both Nottingham Forest and Notts County's football grounds. You will also pass by the legendary Trent Bridge cricket ground, and the National Water Sports Centre, where some of the country's top paddlesport athletes train.
The real beauty of this route is the diversity of landscape. It takes you from the busy and yet peaceful countryside around Holme Pierrepont, out to the heart of Nottingham.
From here the route along the Nottingham and Beeston Canal will show you some of the oldest and best known landmarks of Nottingham's past and present industry. You then turn at Beeston, back to the beautiful scenery along the River Trent.
Don't be fooled however, this is no gentle paddle. Its length and portages mean that a good level of paddling fitness is required before embarking.

Challenge Links and Downloads
View Challenge on Map
Register and Upload Your Time
Completed the challenge? Then use the button below to register yourself and upload your time. We'll send you a certificate of congratulations. You'll also get on the Leaderboard.
Leaderboard
| Position | Name | Date | Time | Boat/Craft |
| --- | --- | --- | --- | --- |
| 1 | Shaune Walsh | 12th June 2017 | 1 hr 42 mins | Not specified |
| 2 | Craig Duff and Cadi Lambert | 30th May 2017 | 2 hrs 13 mins | K2 Kayak |
| 3 | Allistair Swinsco & Alison Rennie | 7th September 2020 | 2 hrs 38 mins 33 secs | Stand Up Paddle Board |
| 4 | Allistair Swinsco and Alison Rennie | 2nd August 2018 | 3 hrs 3 mins | Not specified |
| 5 | Gary Van Beers | 3rd September 2019 | 3 hrs 11 mins 37 secs | Touring/Sea Kayak |
| 6 | Richard Sainsbury and Glyn Sainsbury | 17th April 2017 | 3 hrs 18 mins | Not specified |
| 7 | Stacey Smithson, Kevin Last and Jonathan Herbert | 12th May 2018 | 3 hrs 30 mins | Not specified |
| 8 | Chris Moore, Ilona Ulme and Kaysee the dog. | 30th September 2017 | 3 hrs 30 mins | Not specified |
| 9 | Lynsey Blackburn and Georgina Scoular | 17th July 2018 | 3 hrs 41 mins | Not specified |
| 10 | Vicky Nield and Richard Taylor | 1st June 2017 | 3 hrs 57 mins | Not specified |
| 11 | Elaine Nunns | 18th May 2018 | 4 hrs | Not specified |
| 12 | Paul Wilson | 3rd April 2023 | 4 hrs 10 mins | Stand Up Paddle Board |
| 13 | Quentin De Nottingham | 4th February 2017 | 4 hrs 18 mins | Not specified |
| 14 | Hamish Cameron Glyn Brackenbury | 18th May 2019 | 4 hrs 31 mins 18 secs | Stand Up Paddle Board |
| 15 | Vince, Connor and Morgann McKeown | 2nd July 2017 | 4 hrs 42 mins | Not specified |
| 16 | Dale Mears (@standuppaddleuk) | 24th June 2023 | 4 hrs 54 mins | Stand Up Paddle Board |
| 17 | Mr Darren Farrar | 24th June 2023 | 4 hrs 54 mins | Stand Up Paddle Board |
| 18 | William Horsley, Caden Horsley and Jack Lowe | 15th April 2017 | 4 hrs 55 mins | Not specified |
| 19 | Andrew Brown | 5th March 2016 | 4 hrs 56 mins | Not specified |
| 20 | Sian Sykes | 31st October 2016 | 5 hrs | Not specified |
| 21 | Chris and Christine Eves | 10th October 2016 | 5 hrs | Not specified |
| 22 | Sue Walters | 14th August 2016 | 5 hrs | Not specified |
| 23 | Michael Clarke | 20th July 2019 | 5 hrs 38 mins | Recreational Kayak |
| 24 | Grisbo | 13th August 2019 | 5 hrs 42 mins | Inflatable Kayak |
| 25 | Dale Mears (@standuppaddleuk) | 24th June 2023 | 5 hrs 43 mins | Stand Up Paddle Board |
| 26 | Dane Butler, Barry Mair, Patricia Matthews, Richard Arden, Steve Callaby, Kevin Matthews, Miriam Holden, Jon Hird, Paul Pattinson, Amanda Huckle, Brian Wardell, Robert Huckle, Daniel Marsh, William Hillaby, Ryan Tittershill, Matthew Huckle | 19th March 2017 | 5 hrs 45 mins | Not specified |
| 27 | Slea Paddlers | 16th September 2018 | 6 hrs 39 mins | Not specified |
| 28 | The JAMM family | 26th July 2018 | 7 hrs | Not specified |
| 29 | Petr Velebny | 28th August 2023 | 8 hrs 16 mins | Wild Water Racing C1 |
| 30 | Nukshi Velebny | 28th August 2023 | 8 hrs 16 mins | Wild Water Racing C1 |
| 31 | David Velebny (Remso's Adventures) | 28th August 2023 | 8 hrs 16 mins | Wild Water Racing C1 |