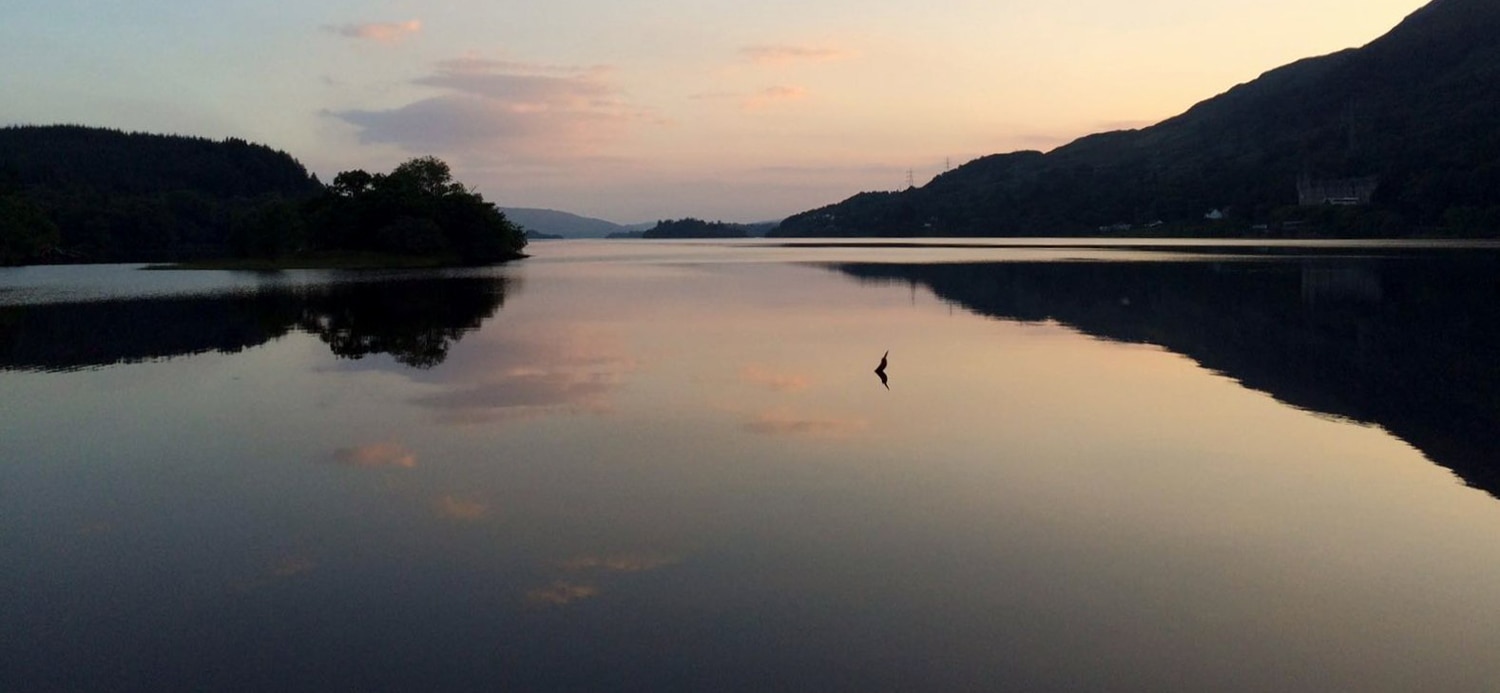 WHY THE LOCH AWE CHALLENGE?
Part of the Three Lakes Challenge
Loch Awe is the longest freshwater loch in Scotland. It is located in the Argyll and Bute region of West Scotland. Its shoreline stretches to within a few miles of the sea. In our opinion, the Loch Awe challenge route is a contender as one of the most spectacular lochs to paddle. It's rugged, remote and the landscape is stunning.
The shores are fringed with conifer forests and the northern horizon is dominated by the Ben Cruachan mountain range. Wildlife in the area is legendary. If you are lucky you may spot deer, otters, golden eagles or ospreys from the water. There are also castles you can paddle up to and explore.
The sights from the water on this challenge are hard to beat. It's not until you are out in the middle of this vast loch that you will truly appreciate its scale and beauty.
Good luck. Just remember that Loch Awe is a large and exposed lake. The weather is prone to change quickly and without warning. It is important you read the full safety guidance in the Loch Awe Challenge information pack below before taking on this challenge route.

Challenge Links and Downloads
View Challenge on Map
Register and Upload Your Time
Completed the challenge? Then use the button below to register yourself and upload your time. We'll send you a certificate of congratulations. You'll also get on the Leaderboard.
Leaderboard
| Position | Name | Date | Time | Boat/Craft |
| --- | --- | --- | --- | --- |
| 1 | Gary and Oscar Partridge | 31st May 2018 | 3 hrs 32 mins | Not specified |
| 2 | Craig Duff and Steph Roberts | 18th August 2016 | 3 hrs 38 mins | Not specified |
| 3 | Matthew and Jasmyn Thomas | 31st May 2018 | 3 hrs 46 mins | Not specified |
| 4 | Gary Partridge and Oscar Partridge | 16th August 2017 | 3 hrs 48 mins | Not specified |
| 5 | Claire Jackson & Jenny Spencer | 14th July 2019 | 3 hrs 59 mins 37 secs | K2 Kayak |
| 6 | Mark and Samuel Jadav | 30th May 2018 | 4 hrs | Not specified |
| 7 | Bill Sharpe | 16th August 2017 | 4 hrs 19 mins | Not specified |
| 8 | Paul Postill and Cassie Byers | 16th August 2017 | 4 hrs 20 mins | Not specified |
| 9 | CAMERON AND LEE ANNE CRAWFORD | 23rd September 2021 | 4 hrs 21 mins | Touring/Sea Kayak |
| 10 | U IDIOTS 2 | 27th June 2021 | 4 hrs 28 mins | Inflatable Kayak |
| 11 | Nick and Dave Watt | 1st November 2015 | 4 hrs 41 mins | Not specified |
| 12 | Ella and Miriam Walsworth-Bell | 30th May 2018 | 4 hrs 44 mins | Not specified |
| 13 | Patrick Kinsella, Richard Snow and Neil Gilmour | 9th July 2017 | 4 hrs 51 mins | Not specified |
| 14 | Allistair Swinsco, Dean Dunbar, Ian Cormack | 17th July 2017 | 5 hrs 7 mins 9 secs | Stand Up Paddle Board |
| 15 | Glyn Watkins, David Watkins, Reg Simpson, Russ Rawlinson, Chris Sandiford | 3rd September 2016 | 5 hrs 15 mins | Not specified |
| 16 | Milton Keynes Canoe Club | 30th April 2016 | 5 hrs 15 mins | Not specified |
| 17 | Peninsula Canoe Club | 4th July 2015 | 5 hrs 24 mins | Not specified |
| 18 | Team HC | 1st May 2016 | 5 hrs 32ins mins | Not specified |
| 19 | Steve and Julie Watt | 1st November 2015 | 5 hrs 40 mins | Not specified |
| 20 | Graham Wells | 23rd May 2015 | 5 hrs 43 mins | Not specified |
| 21 | Craig Atkinson | 20th August 2019 | 6 hrs 4 mins 26 secs | Touring/Sea Kayak |
| 22 | Aubin de Gruchy | 20th August 2019 | 6 hrs 4 mins 26 secs | Touring/Sea Kayak |
| 23 | Craig Atkinson | 20th August 2019 | 6 hrs 4 mins 26 secs | Touring/Sea Kayak |
| 24 | Aubin de Gruchy | 20th August 2019 | 6 hrs 4 mins 26 secs | Touring/Sea Kayak |
| 25 | Chris Partington & Eric Lunt | 12th August 2019 | 6 hrs 7 mins | Recreational Kayak |
| 26 | Avon Aardvarks Canoe Club | 22nd May 2022 | 6 hrs 7 mins 45 secs | Open Canoe |
| 27 | Chris Bowler | 29th May 2019 | 6 hrs 23 mins | Touring/Sea Kayak |
| 28 | Jeremy Dable | 24th August 2019 | 6 hrs 30 mins | Touring/Sea Kayak |
| 29 | Jeremy Dable | 24th August 2019 | 6 hrs 30 mins | Touring/Sea Kayak |
| 30 | The Dowson Family | 23rd May 2015 | 6 hrs 30 mins | Not specified |
| 31 | Vincent Boyle and Philip Pearson - Trailblazers | 23rd June 2019 | 7 hrs 2 mins | Touring/Sea Kayak |
| 32 | Alan Minister and Tim Styles | 6th June 2018 | 7 hrs 21 mins | Not specified |
| 33 | Joseph Rosenfeld | 1st August 2015 | 7 hrs 24 mins | Not specified |
| 34 | Chris and Christine Eves | 11th May 2017 | 7 hrs 25 mins | Inflatable Kayak |
| 35 | Foxy & Garland | 25th May 2019 | 7 hrs 36 mins 46 secs | Touring/Sea Kayak |
| 36 | William and Caden Horsley | 28th August 2016 | 7 hrs 53 mins | Not specified |
| 37 | Andrew Fryer-Kelsey, Joshua Fryer-Kelsey and Tim Redfern | 21st August 2018 | 7 hrs 58 mins | Not specified |
| 38 | Andrew Tween, Scott Rogers and Tim Hale | 14th October 2016 | 8 hrs 45 mins | Not specified |
| 39 | Kate Sharples, Barbara Broderick and Ruth | 25th May 2015 | 9 hrs | Not specified |
| 40 | Lizzie James | 22nd March 2022 | 9 hrs 26 mins 10 secs | Stand Up Paddle Board |
| 41 | Slea Paddlers (group of 12) | 28th May 2017 | 9 hrs 30 mins | Not specified |
| 42 | Brian and Harrison Wardell | 29th May 2016 | 9 hrs 32 mins | Not specified |
| 43 | Roger Chandler | 2nd October 2016 | 9 hrs 40 mins | Stand Up Paddle Board |
| 44 | Sian Sykes | 15th May 2016 | 10 hrs | Stand Up Paddle Board |
| 45 | Shropshire Paddlesport | 19th August 2015 | 10 hrs | Not specified |
| 46 | Chris Moore, Ilona Ulme and Kaysee the dog. | 1st August 2017 | 10 hrs 50 mins | Not specified |
| 47 | Leam Boat Centre - Children and Adults | 25th September 2016 | 12 hrs 16 mins | Not specified |
| 48 | Ollie Nawrat | 7th May 2022 | 13 hrs 59 mins 48 secs | Stand Up Paddle Board |
| 49 | Sutton Coldfield Sea Cadets | 19th August 2018 | 15 hrs 34 mins | Not specified |
| 50 | Nathan Parry | 27th June 2018 | 19 hrs 24 mins | Not specified |