Ever thought about taking your dog out on your stand up paddle board adventures? If so, you're probably wondering how best to go about getting your four-legged friend on board. Well, luckily for you we've put together the following safety information and five step guide on how to paddle board with your dog(s).
Safety Considerations
Before we go through our five steps, we want to take a moment to talk about safety. Firstly, when introducing a dog to your adventures, consider revisiting some areas you know and are within your capabilities. Avoid places with high or steep banks as these places are often much more difficult to get in and out of.
Secondly, whilst many dogs are good strong swimmers even they can become tired over time or disorientated after falling in unexpectedly. That's why we would highly recommend purchasing a life jacket for your dogs to keep them safe and warm when in the water. The jackets also allow you to spot them swimming in the water more easily. Plus, we would recommend getting a life jacket with a handle on top so you can easily lift your dog out of the water and back onto the board.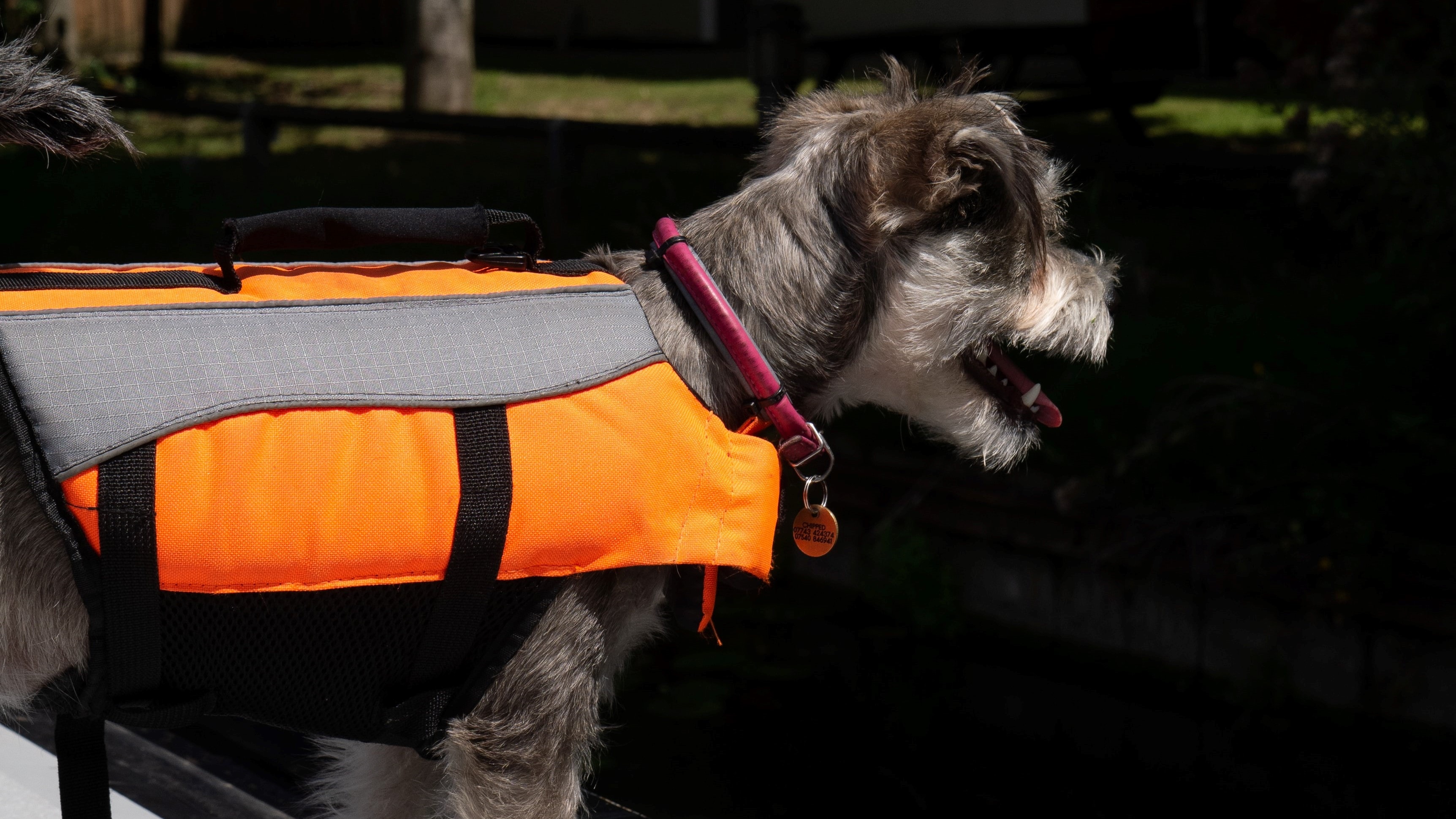 Lastly, don't forget to be mindful of your own safety. We have a wide range of paddle board safety tips and advice which can be found by clicking here. We would certainly recommend having a look through our SUP safety checklist, available here.
Five step guide to how to paddle board with your dog(s)
Step 1
It's really important to let your dog get familiar with the setting up of the board, especially with the noise of the pump, so we would encourage you to let your dog hang around with you when setting the board up. Allow the dog to sniff and explore the board, paddle, pump and bag.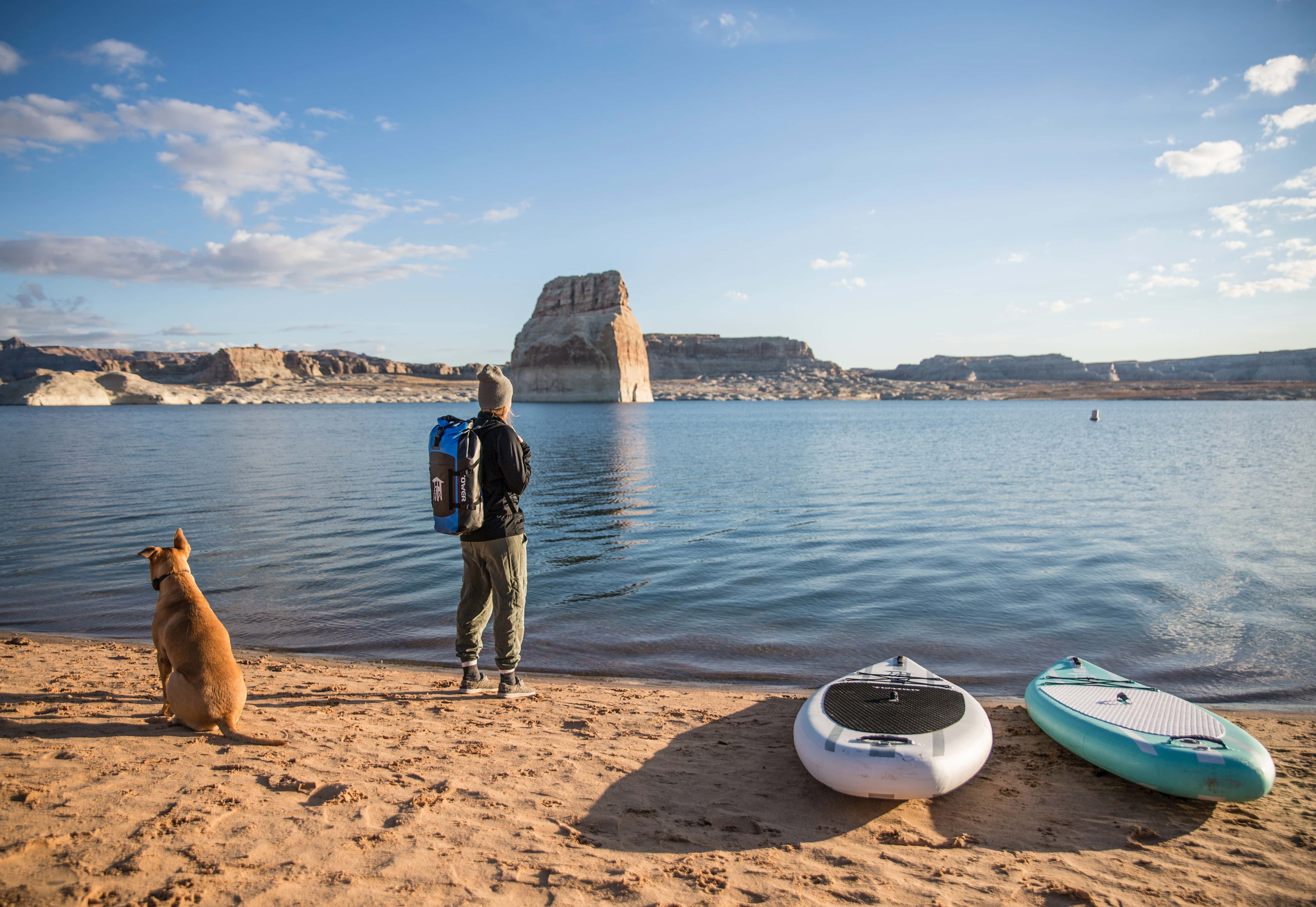 Step 2
Now your dog is familiar with you setting the board up, it's time to introduce them to getting on and off the board whilst still on dry land. Start off by encouraging your dog to run across the board so they can get use to the feel on the board under their paws. Once they've done this a few times, try to encourage your dog to hop on the board and stay. After they're used to staying on the board it's a good idea to introduce some simple commands. For example, ask your dog to sit or lie down whilst on the board. Don't forget to reward them with plenty of treats.
Step 3
Following a dry run it's time to add a splash of water. Start off by placing your board half in and half out of the water, we would recommend the fins are in the water to help protect them. Now make sure your dog is wearing a buoyancy aid before repeating the exercises that you did during the dry run, starting with running on and off the board, then building slowly up to staying put whether that's standing, sitting or lying down.
If possible, we would then recommend holding your board still in waist deep water with your dog on the board. Walk the board through the shallow water as this will help your dog get use to the board being on water as well as with the floating motion of the board. If your dog jumps off, try to encourage them back onto the board with a treat.
Step 4
When you are both ready to go out together, we would always suggest starting out on your knees with your dog just in front of you. This will give you better balance, a chance to see what your dog is up to with the ability to quickly rescue if they fall in. Remember to keep these initial paddles quite gentle and short in duration.
Step 5
Standing up with your dog on the board can be quite tricky so it's important to take your time. We recommend having the dog between your feet to avoid accidentally hitting them with the paddle. Once you are comfortable with your dog at your feet it's time for you to encourage them to sit in front of you or venture further along to sit at the nose of the board.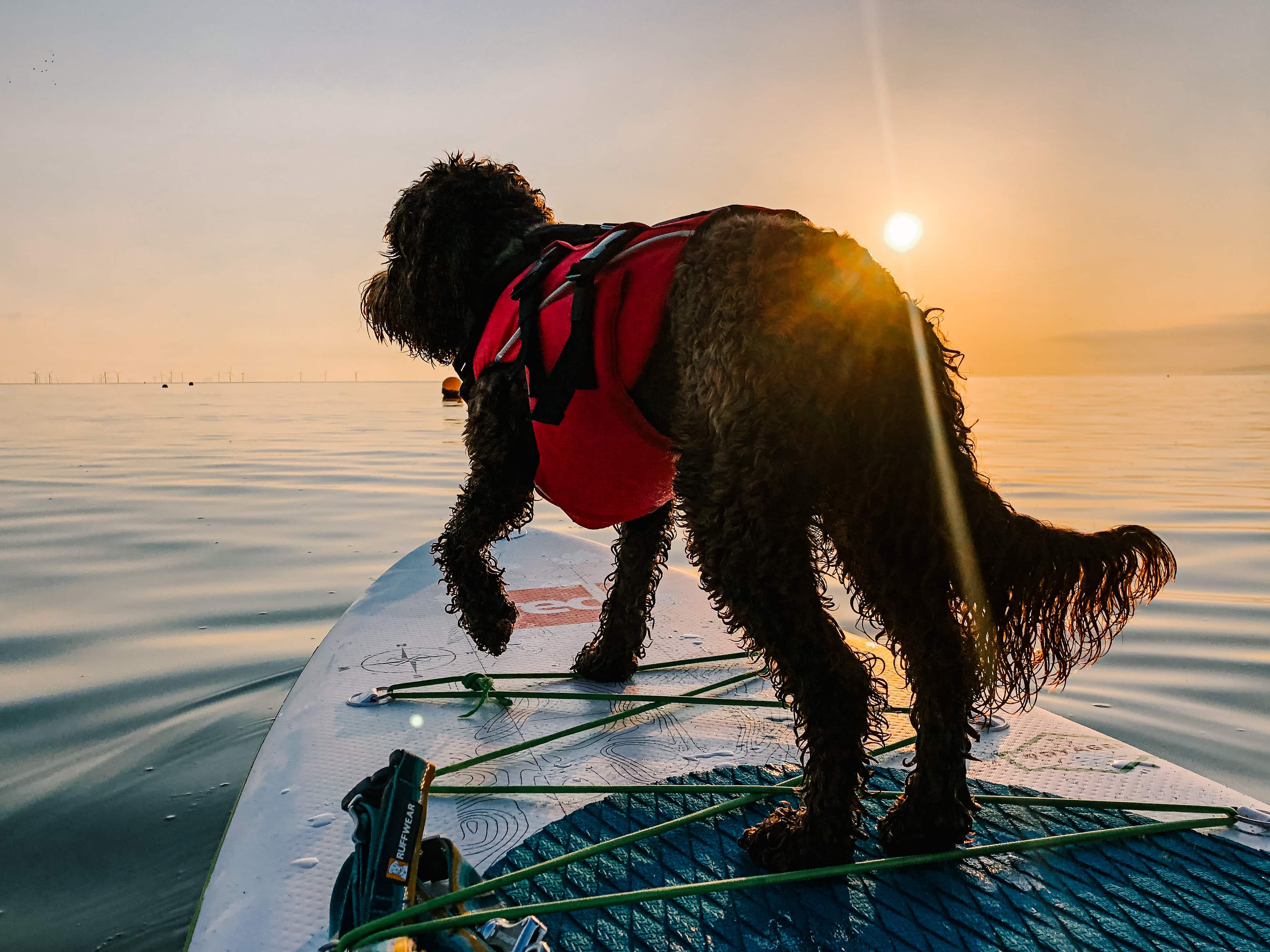 So there you have it, our five steps on how to calmly introduce your dog to paddle boarding. Just remember it's important to be calm and patient during each step. It always helps if you reward your dog with their favourite treats and a good petting.
Benefits of paddle boarding with your dogs
If you are still unsure about taking your dog along on your paddle board adventures? Here's keen outdoor enthusiast and paddle boarder Emily-Jane Harding to help explain why you really should take your four-legged friend along with you…
"We all love heading out and about with our four-legged friends, so why should they miss out on joining us on our paddle boarding adventures? One of my favourite outdoor activities has got to be heading out on my SUP with my two dogs, especially on the River Severn or up in the Lake District. Being out on the water can be so relaxing, calming and rewarding, and by bringing the dogs along, it really enhances the experience. It's a great way to spend quality time with your dog(s), helps improve the bond you share with them and they make fantastic company.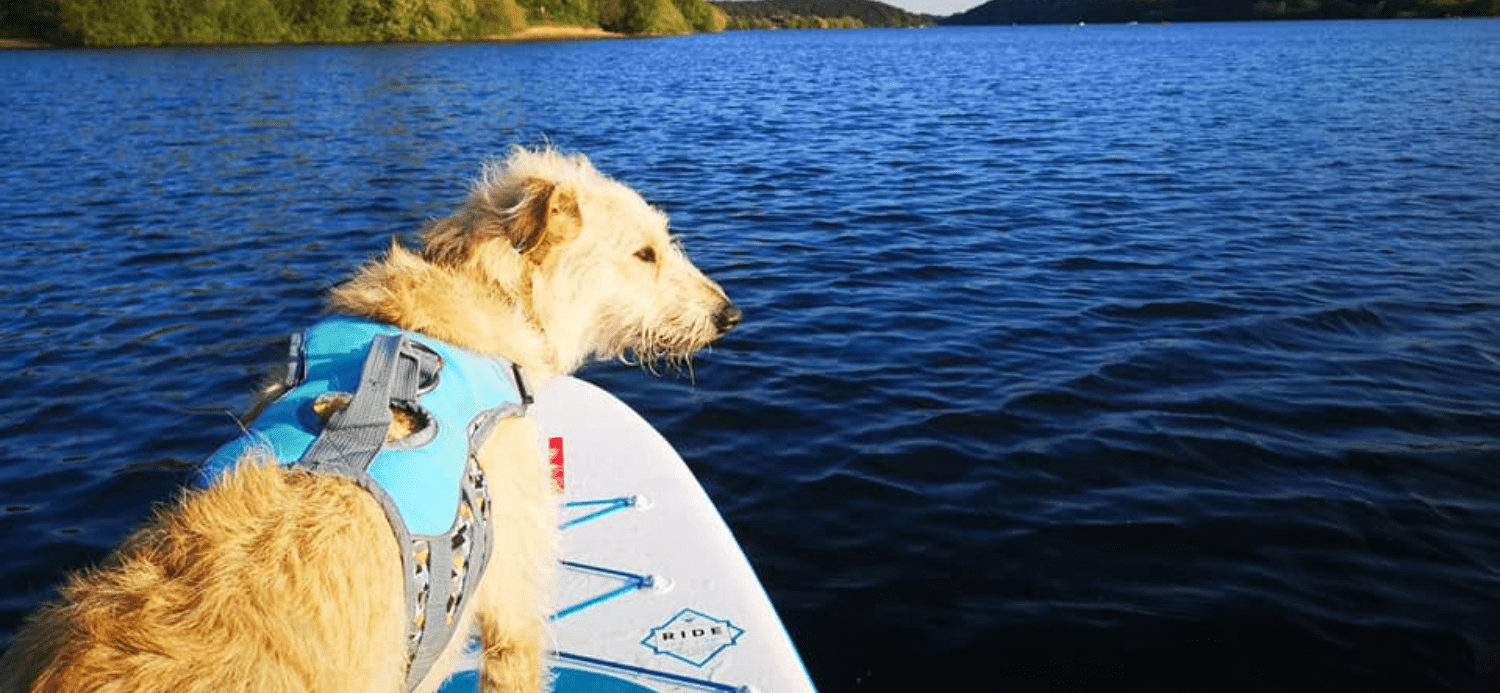 Paddle boarding with your dog(s) can be quite challenging at times, especially if you have a dog like mine who doesn't always like to sit still on the board, so I'd advise getting confident on the SUP first before heading out with a dog. But think of it as an extra fun challenge to try and keep your balance without falling into the water. I can't recommend heading out on a SUP adventure with your dog enough and would urge that you all give it a go, there are so many beautiful places to explore on the water and I'm sure you'll fall in love with it as much as I have."