We know it can be a bit daunting when you're trying something new. So, we want to take some of that 'unknown' element away. Here's our advice on what to wear for a SUP yoga session.

Specialist kit isn't necessary for SUP yoga unlike many of the other paddling disciplines. Sure you might fall in (MIGHT being the operative word), but as most sessions take place in spring and summer, or inside in a swimming pool, you don't need wetsuits or drysuits that will leave you hot, sticky and very inflexible when it comes to your down dog!

If you've never been to a SUP yoga session before, we've made a list of things you might want to take with you. There's nothing on this list you probably won't already have in your house, so there's no excuses now!

What to wear for a SUP yoga session
Top or tshirt. Light, airy workout tops like you would wear to the gym or on a run. Running tops actually make a great SUP yoga top as the fabric is comfortable, breathable, quick drying and moisture wicking.
Leggings or workout trousers. Again, leggings are a fantastic 'bottoms' option for a SUP yoga session, due to the reasons above. But if you're not a fan of leggings, just wear something comfortable like shorts of whatever you would normally wear to exercise in. If you're comfortable in what you're wearing, you'll enjoy it a lot more.
Flip flops or slip on shoes. Most people will go barefoot or wear grippy neoprene socks when they're on the paddleboard, because balance is easier when you can feel your feet on the board. However for getting on and off the board, you need something to protect your feet. Simple beach style flip flops or slip on shoes like lightweight trainers will do the job just fine when you're getting started!
Jumper or hoodie. You will get quite the workout doing SUP yoga, but keep your muscles warm to start with and opt for a running jumper, fleece or hoodie for the warm up and warm down sessions. They also come in useful as an alternative blanket for savasana (aka nap time).
Extras
Blanket. Depending on the weather and whether the session includes a savasana or not, a light blanket or microfibre towel might come in useful.
Dry bag. This doesn't have to be anything jazzy. A waterproof rucksack or bag might be needed if you want to take things with you on your session. It can help keep your change of clothes, snacks or water bottle dry if there are no lockers too.
Water bottle. A given… you exercise, you need drinking water.
Change of clothes and towel. Just incase you take a splash! Better to be over prepared than under…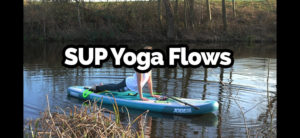 With not just one but two new skills to pick up, SUP and yoga, we figured you may need some ...
Read More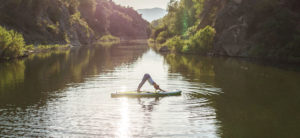 We know it can be a bit daunting when you're trying something new. So, we want to take some of ...
Read More

SUP yoga has really exploded onto the scene in the last few years, appealing to water sports enthusi