Whether you're kayaking, canoeing or stand up paddle boarding, chances are you're going to get wet. Plus, you'll likely be going out in a range of temperatures and conditions as well, which means you'll need to be wearing the right kit. This doesn't need to break the bank. We've put together a list of essential kit for your paddling wardrobe that can be layered up or down. And the best bit is, you can wear the kit all year round for a range of activities. So you'll definitely get your money's worth!
Gill Pursuit Wetsuit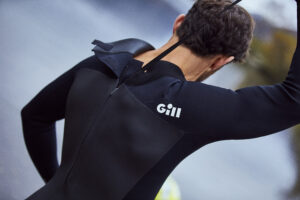 Wetsuits are a fantastic item of clothing to get you started on the water. When you're learning to paddle, the chances are you're going to find yourself taking the occasional dip. A wetsuit made from insulating neoprene rubber is a good piece of basic gear to invest in. The initial investment may seem expensive. But a good wetsuit (if cared for correctly) will last you for years and can also be used for other activities such as open water swimming and surfing. You can also wear it throughout the year and layer up or down depending on the temperature. There are a variety of wetsuits to choose from, ranging in thickness and design (full arm, short sleeve or sleeveless). 
The Gill Pursuit Wetsuit is a full arm wetsuit made from 4/3mm neoprene. It features glued and blindstitched construction with critical taping on the inside to keep warm water in and cold water out. It's important to make sure your wetsuit fits well. If it's too big then it will let too much water in and your body won't be able to warm the water up. The Mesh Skin chest and back panel with a thermal fabric lining will keep your core and upper body warm even in the coldest temperatures. The double-lined Glideskin collar stops cold water from getting in while being comfortable enough for day-long wear. 
Gill Thermoshield Top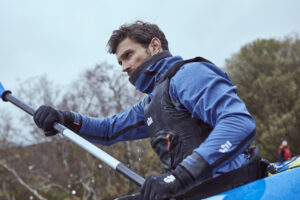 Cags, also known as spray tops, are a must in cold weather conditions. They help to create a protective outer shell keeping you dry and shielded from wind chill. When looking for a cag for your paddling wardrobe you want to pick something that repels water and offers good wind protection. The Gill Thermoshield Top is a great all-rounder due to its non-absorbent, laminated outer fabric and thermal, fleece-lined inner. Its adjustable stretch neoprene waist helps create a watertight seal. The high collar and draw tie protect your face and neck. In the winter you can wear it on top of a thermal base layer and wetsuit. Then when the weather heats up, you can wear it over a T-Shirt or rash vest.
Gill 3 Season Gloves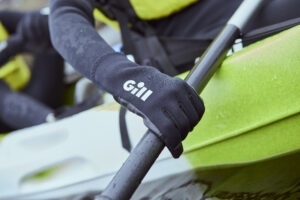 Gloves can be a personal preference when it comes to paddling. Some paddlers like to wear gloves year-round to help with grip and to protect their hands from the cold. You can combine grip with a glove that can be worn across multiple seasons. As the name suggests, the Gill 3 Season Gloves are a fantastic transitional style that can be worn during the warmer and cooler months. Made from lightweight neoprene with non-slip fabric on the palm, they help you grip your paddle. Plus the touch screen fingers and thumb, mean no more taking off your gloves when you need to check your phone! 
Gill Aqua Parka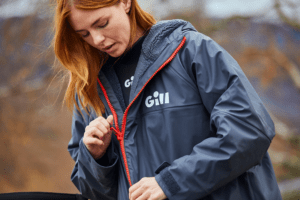 A staple for most paddlers is a good quality changing robe that will keep you warm in the winter and protected all year round. Engineered using welded seam construction, the Gill Aqua Parka moves as you change. Making it easy to get out of wet clothing while outdoors much easier. The wipe-clean fabric is ideal for getting rid of any marks and it doesn't hold water which is great for spontaneous downpours. There is also no end to its usage…taking the dog out, watching the kid's sports matches, even camping, making it a versatile addition to your paddling wardrobe!
Gill Pursuit Buoyancy Aid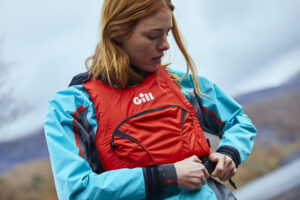 Finally, something every paddler needs is a buoyancy aid. Although there are not as many ways to wear a buoyancy aid, it's something you should wear all year round. A lot of us may think we're confident swimmers but, we can become easily disoriented when falling into the water, particularly in cold temperatures. The Gill Pursuit Buoyancy Aid has adjustable shoulders with neoprene padding for a secure and comfortable fit. It also has a self-draining zippered front pocket for storing essential items and reflective detail on the front and back for visibility. It's important to know how to check and maintain your buoyancy aid to ensure that it can continue to protect you whilst out on the water. Check out our article on how to look after your buoyancy aid for more information.
Gill has a wide range of multifunctional quality products for on and off the water. Don't forget British Canoeing members receive 15% off all the items mentioned above as well as Gill's entire product range. 
If you are looking for more advice or tips on what to wear whilst paddling, be sure to check out our other articles on choosing the right paddling gear.