Now you have yourself a lovely new kayak, canoe, or paddleboard it's time to get it out on the water. But how do you take it from your home to the river, lake, sea? Unless you are one of the very lucky ones, you are going to have to drive there; so knowing how to transport your kayak, canoe, or paddleboard is vital. Luckily for you, we have pulled together some top tips, amazing accessories, and safety advice for tying down your craft.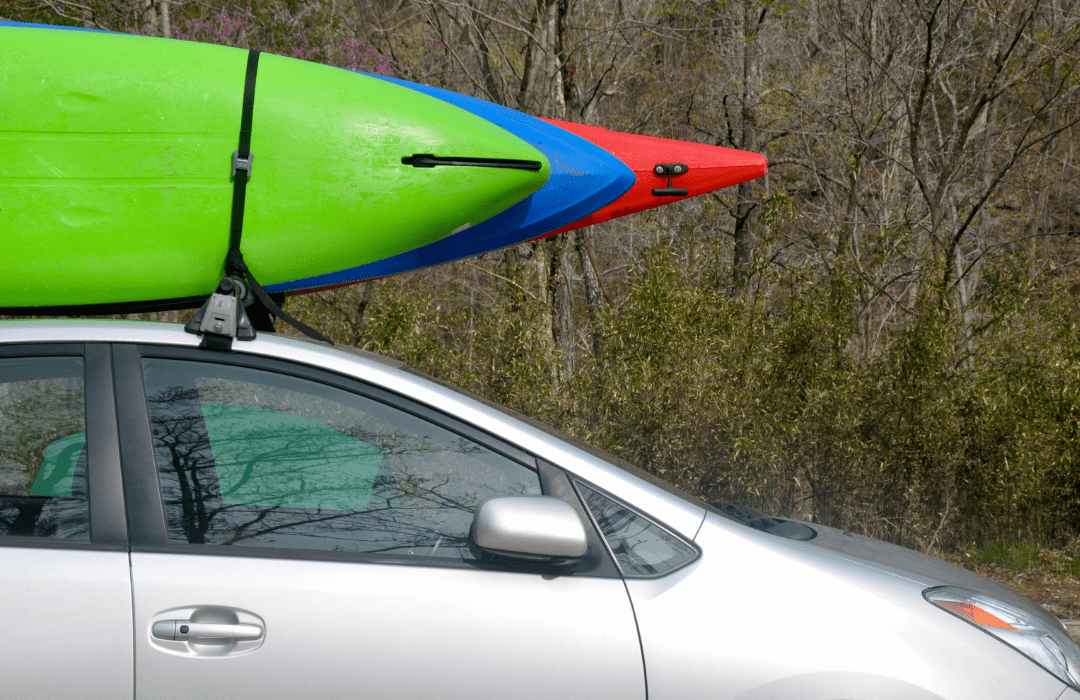 Types of roof rack to transport you kayak, canoe, and paddleboard
First of all you are going to want a roof rack so that you are not damaging your car roof. The options for roof racks are varied, but fall into two basic categories, fixed (physically attached to the car) or removable (simply strapped down to the roof). You can find roof racks at most motor stores, but did you know that you actually get a 10% discount at Halfords with your British Canoeing membership. Each has their advantages and drawbacks that are worth knowing when deciding.
Removable – These come in two forms, inflatable or foam, and are ideal for short distances with lighter loads. Being quick and easy to strap down to any car roof and packing up small makes them good for the occasional paddler jumping between vehicles.
Fixed – Methods of fixing these to the car vary, from bolting directly to the roof to a vice-like grip onto external roof rails. These bars can hold a higher load weight than the removable ones and are  more secure for longer trips. Another benefit of fixed bars is the range of accessories you can purchase.
Your other key piece of equipment to transport your craft is your straps, crucial to making sure you don't lose it on the drive. Any local or online kayak store will have a plethora of strap options; varying in length, width, and make, however one thing you will notice is they are all cam buckle straps, meaning as you pull the strap through the buckle it grips it and keeps the tension. These are preferential over other kinds of straps and rope. It prevents you from over tightening and damaging your craft, is simple to use, and will save you time in loading up to go paddling.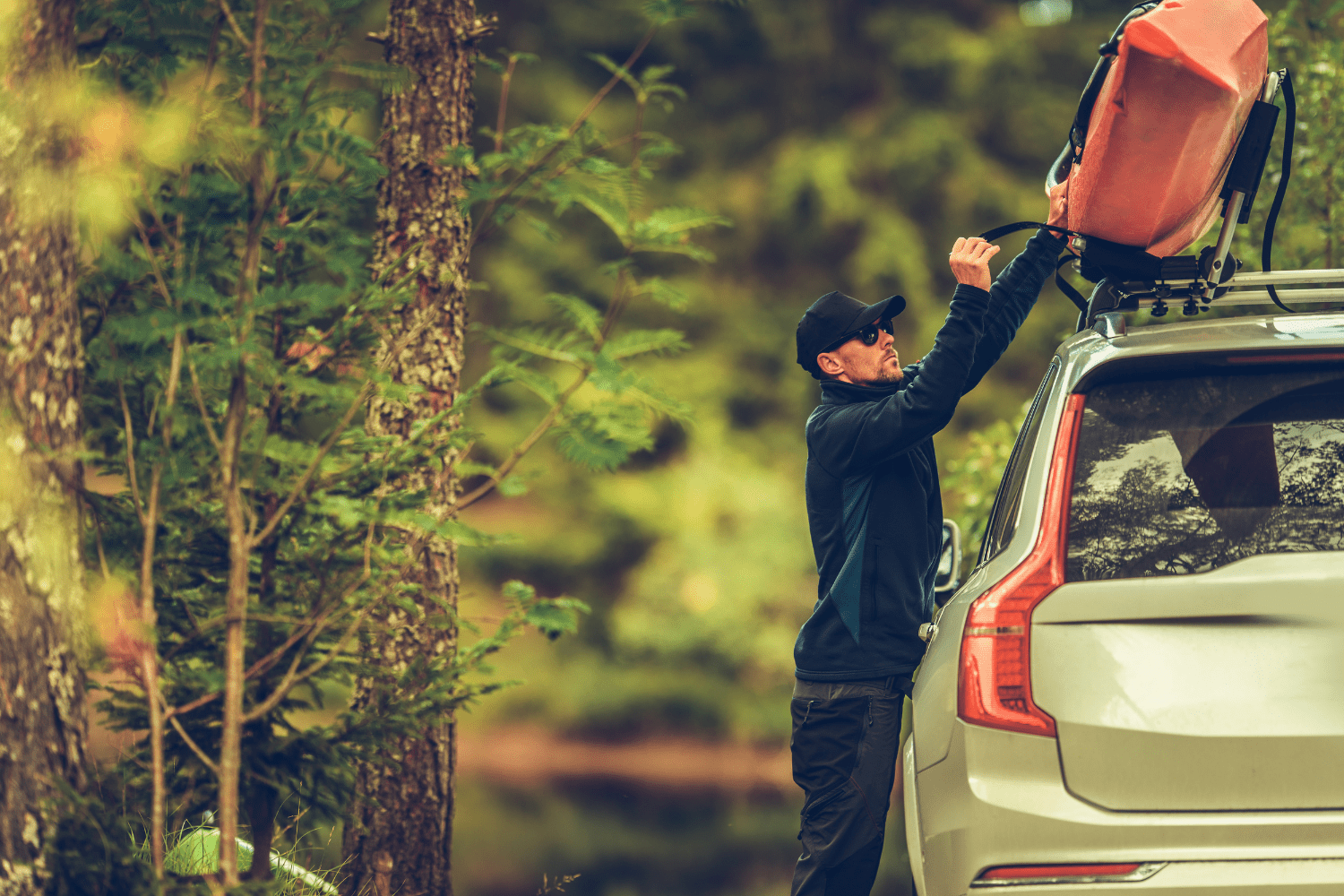 Accessories to transport you kayak, canoe, and paddleboard
There are a huge range of accessories available for carrying kayaks, canoes, and paddleboard's on roof racks. So it is worth knowing what is worth the money and which just aren't for you.
Uprights – Brilliant for carrying multiple crafts, you can rack them up on their side and prop them against the uprights for easy tying down. Most uprights have strap loops on the top of them making them easy to use. Perfect for carrying large canoes, multiple kayaks of all kinds and multiple paddleboards. Just remember the extra height they add to your vehicle when it comes to bridges and car park barriers!
J-Bars – Perfect to rest your boat in for easy loading. J-bars will hold your craft in the perfect position while you strap it down. The only drawback being that only one boat can fit into them, reducing the carrying capacity of your vehicle. An ideal accessory for sit-on-top kayaks, as well as whitewater, touring, sea, and slalom kayaks.
Kayak Pads – Simple pads that sit either side of a kayak's hull to help hold it upright. Giving the kayak stability, it also adds some protection to the bottom of the boat. Most commonly used for rounder bottomed kayaks, such as touring and sea kayaks. These do not offer much assistance to flatter kayaks or paddleboards.
Paddleboard/Surf specific – many companies produce accessories specifically designed for the narrower height of paddleboard and surf boards, with the main purpose to offer more cushion to the boars and hold the straps central to the roof rack. Often ideal for a small number of paddleboards, but will have a limited capacity to the load.
V-bars – most commonly used to transport marathon, sprint and whitewater racing kayaks. These shaped bars give the narrow V shaped hulls of the racing kayaks more stability and protection in transportation. V-bars are more specialised accessories, specifically made for these types of kayaks, so would not be much use when transporting a paddleboard, inflatable or whitewater kayak, or canoe.
Loading Assistance – bars that slide out away from the vehicle, and sometimes vertically down, make lifting the craft onto the roof rack far easier for some. By reducing the forward motion of loading crafts onto the roof rack, it is made easier to get heavy or multiple crafts loaded. Often popular with owners of composite sea kayaks, those transporting crafts on vans, and even larger canoes. This system is often used in conjunction with other accessories. You do have to be conscious of the space around your vehicle when using these as they won't slide far next to a brick wall.
The most important accessory to be used when loading any craft onto a roof rack is padding. This provides some level of cushioning and will massively reduce the risk of damage. Tightening your craft to a metal bar, a firm must in canoe transportation, as the gullies around the edge of the canoe will take the brunt of the pressure on the roof rack. From branded pads with weather resistant covers to homemade pipe insulation foam, anything is better than nothing.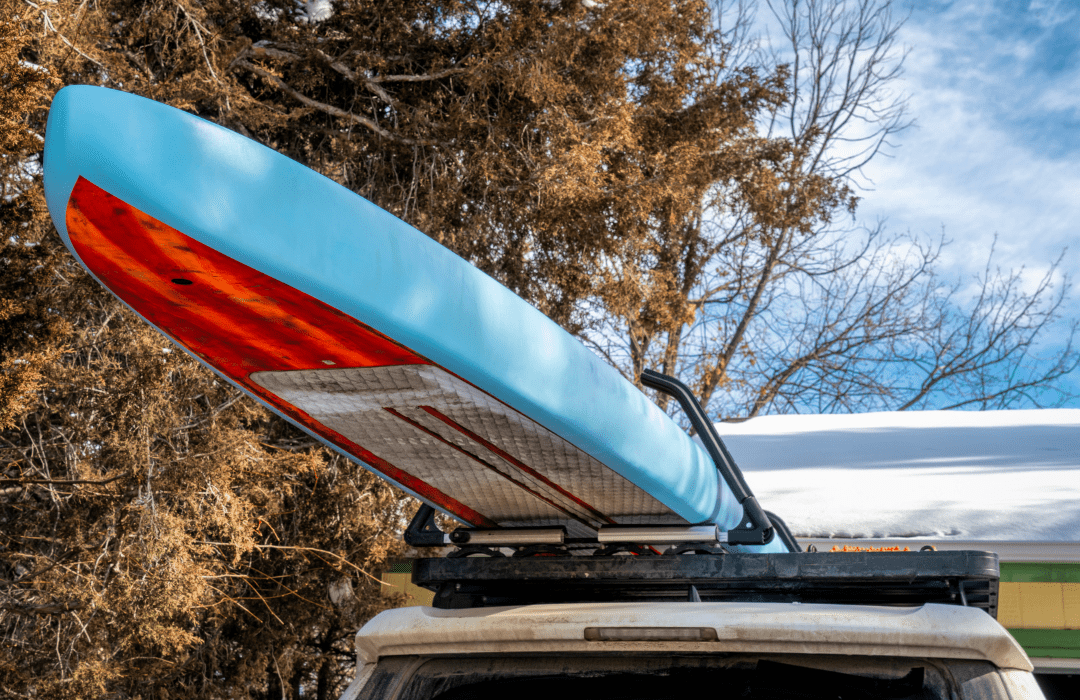 General Advise to transport you kayak, canoe, and paddleboard
Now you're set up with your roof rack all you need to do is strap down and head out. But there are a few last things to consider when tying down to ensure your craft doesn't go anywhere on the drive.
Position – Ensuring the straps are either side of the craft's widest part. This will reduce the risk of it sliding forwards or backwards on transit.
Tying off – when tying off the loose end of the straps, use them to reinforce the strapping down. Tying off through grab handles or D-rings will give the craft extra security should the straps manage to loosen off.
Bow/Stern Line – think about the length of your craft. Does it need the bow or stern strapping down to the vehicle to prevent them taking off? It is always better to be safe than sorry in this case.
The most important piece of advice that can be given is to ask for help whenever it is needed. Where not all paddleboards, kayaks, and canoes are heavy, they can be an awkward shape to lift above your head. So remember the classic manual handling advice of lift from the knees and keep your back straight. Where the canoe, kayak, or paddleboard is heavy or long we advise that you grab a friend to help. With each person grabbing an end of the craft, the job of lifting it safely onto the vehicle is simple. You should take care in any adverse weather conditions, such as wind, rain, snow, as it may affect your grip or stability. The last thing you want to do is to injure yourself before you make it to the water.
Now you know how to get your kayak, canoe, and paddleboards to the river it's time to enjoy! The last bit you need that may be classed as an accessory is a waterways licence. As well as access to thousands of miles of water, with your British Canoeing Membership you can enjoy 10% off at Halfords, so grab all you need to transport your kayaks, canoes, and paddleboards.