Following on from my piece "Have you heard about SUP racing", I thought I would highlight three women who have caught the racing bug to showcase the transition from leisure paddler to SUP racer.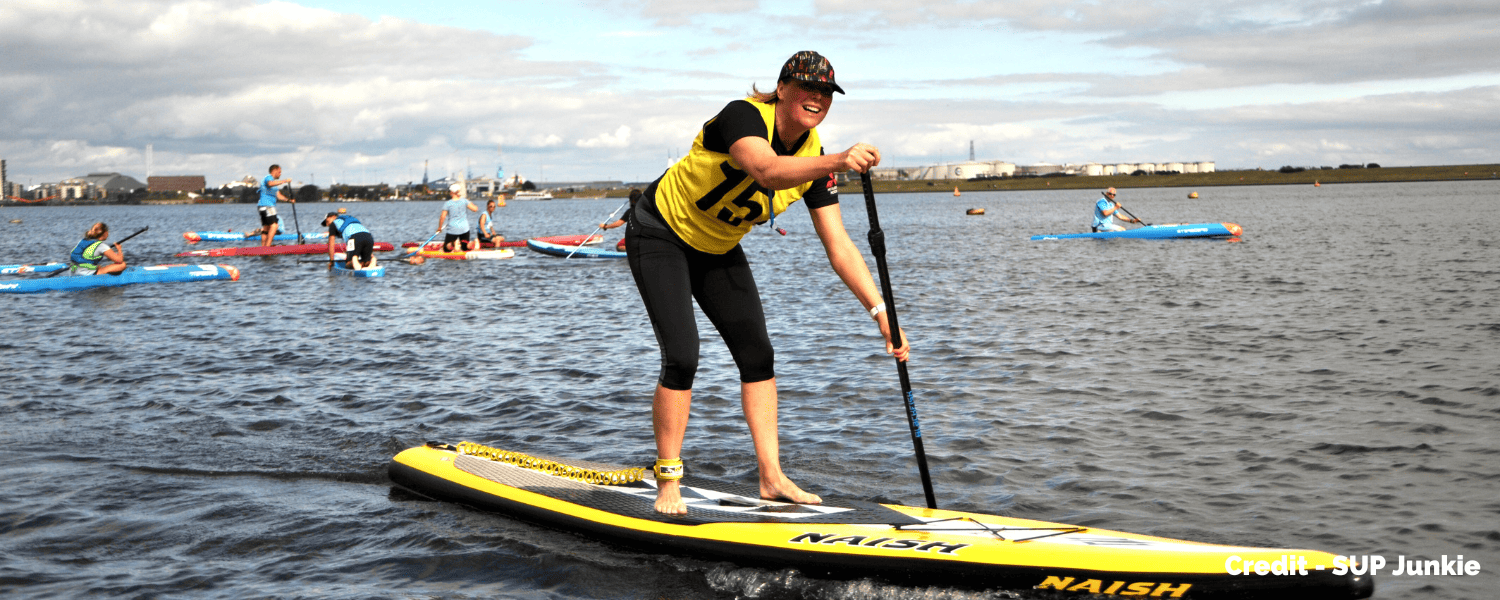 Sarah Perkins
Sarah was a sporty kid before "a wonky shoulder and wonky knee" put paid to climbing and running. She found SUP by accident at a demo and all she remembers is someone shouting at her from the beach that she had the paddle round the wrong way – we've all been there, right?
She loves paddleboarding as it's very accessible with low-tech gear and also low impact on the body. We are also an island nation with many, many waterways so no shortage of places to paddle.
Sarah fell in love with SUP surfing first and is now obsessed with the surf report and gets out as much as she can. Fearful of competition, her first was in windsurfing where she "whinged and moaned because I was terrified of taking part in a competition! I took the plunge and had great fun. There was a good crowd, fab after-party and, importantly, it made me realise that competition is not just for pros or elite athletes."
As soon as she got into SUP the idea of entering a race seemed like the logical thing to do to bring on her skills and fitness. She started in 2017 by entering Naish One Design comps, where everyone races on exactly the same board type. There she met "the nicest group of people, who are all still firm friends."
Now, she attends as many national races as she can, and last year entered an international competition where at the age of 50, won a bronze and silver medal. Not bad for a girl who was scared to compete!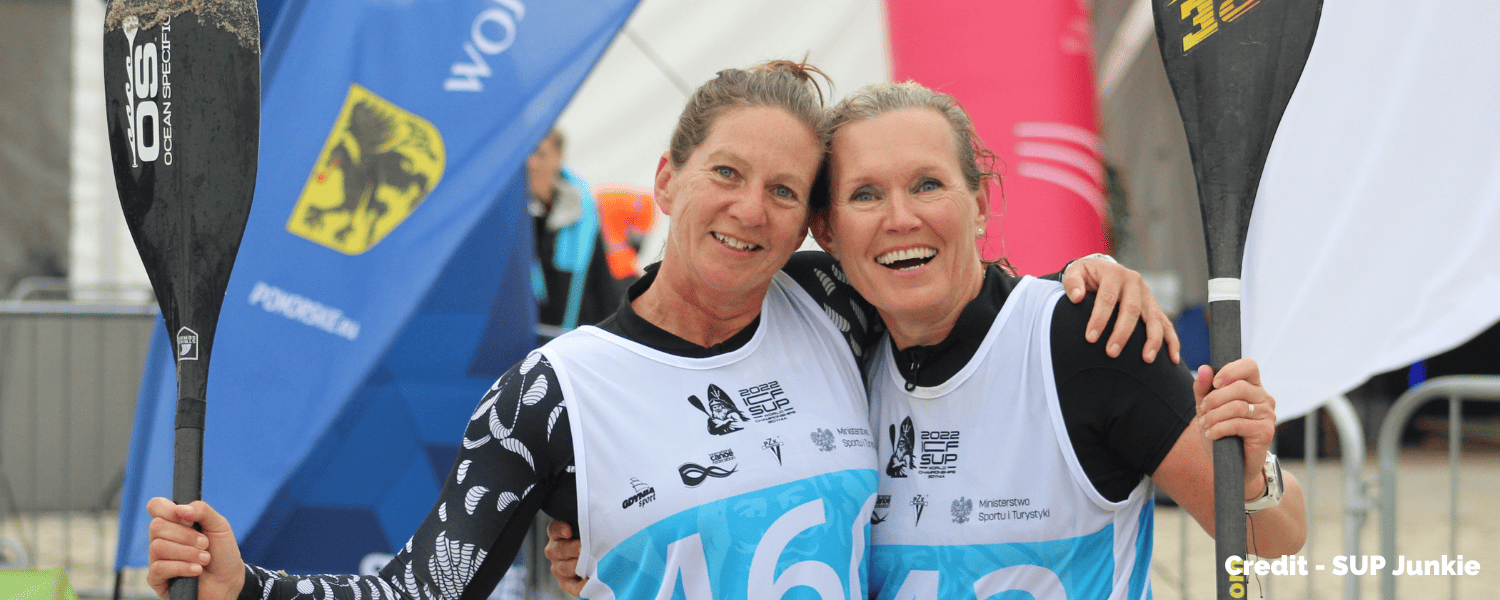 Karen Greener
Karen from Durham started when her partner Bruce took her on a date to a local river, handed her a wetsuit and a Nisco board and said let's see how you do it! A couple of days later she joined her local Club, the Northern SUP Race Team, on a casual afternoon paddle with the promise of a bacon butty. She became hooked.
Karen had been an active woman with running and strength training being her passions until a knee injury stopped her competing in half marathons and running events. She believes paddleboarding is like running on water only better. "The more I paddled, the more I felt I rediscovered my old running self – paddling reignited my love of fitness and exercise."
So, a few weeks after discovering SUP, Karen entered the Naish One Design race in Emsworth and her fear of racing was very real.  I remember meeting Karen on that day and encouraging her to just "have a go" – nerves and tears later turned into beaming smiles and she came away hungry for more. That's all to do with the incredibly supportive community. Coming up for her 55th birthday, Karen feels fitter and stronger than ever and SUP has helped her through grief and keeps her head clear and heart happy.  She has also won many medals and has been a National Champion with the GBSUP National Series.
Sarah Marshall
Sarah is also from Wales. Cycling and mountain biking were her passions in her early 40's and then cyclo-cross racing.  She's also dabbled in XC MTB races.  These sports "toughened me up and taught me a lot."
Having spotted SUP through a friend's holiday photos on social media and whilst taking a break after an injury, Sarah wanted a gentle exercise to keep her moving. She wanted to strengthen her back and core and also loved water. So, a friend gave her a whistle-stop tour of the basics and safety aspects and Sarah then turned up at her local SUP social event in Cardiff.  Paddling with like-minded people in and around Cardiff and Barry gave her the confidence to attend a weekend adventure trip, where she was motivated to develop her skills and knowledge further.
Cardiff hosts one of the GBSUP National Series races so Sarah decided to enter the One Design class in 2019.  She enjoyed the preparation, whilst improving her fitness and picking up race tips along the way. She said "It was quite daunting getting to a start line for the first time but the race was brilliant and I found the community really welcoming." Since then, she has been regularly training at the Cardiff International White Water Centre, who have invested in race boards. Sarah has been able to road test them all and found that invaluable in then deciding on her own, recently purchased, race board. There has also been a huge amount of help from local athletes too who are always generous with their time and knowledge.
Sarah has since dabbled in flat water, ocean tech, SUP-bike-run triathlon and white water SUP at Hurley Weir.  She's a self-confessed "dabbler, who likes to mix things up, not a focussed athlete but I can turn up to a competitive event with my own personal goals. That sense of achievement and progress can be addictive, and there's usually good coffee, cake and company."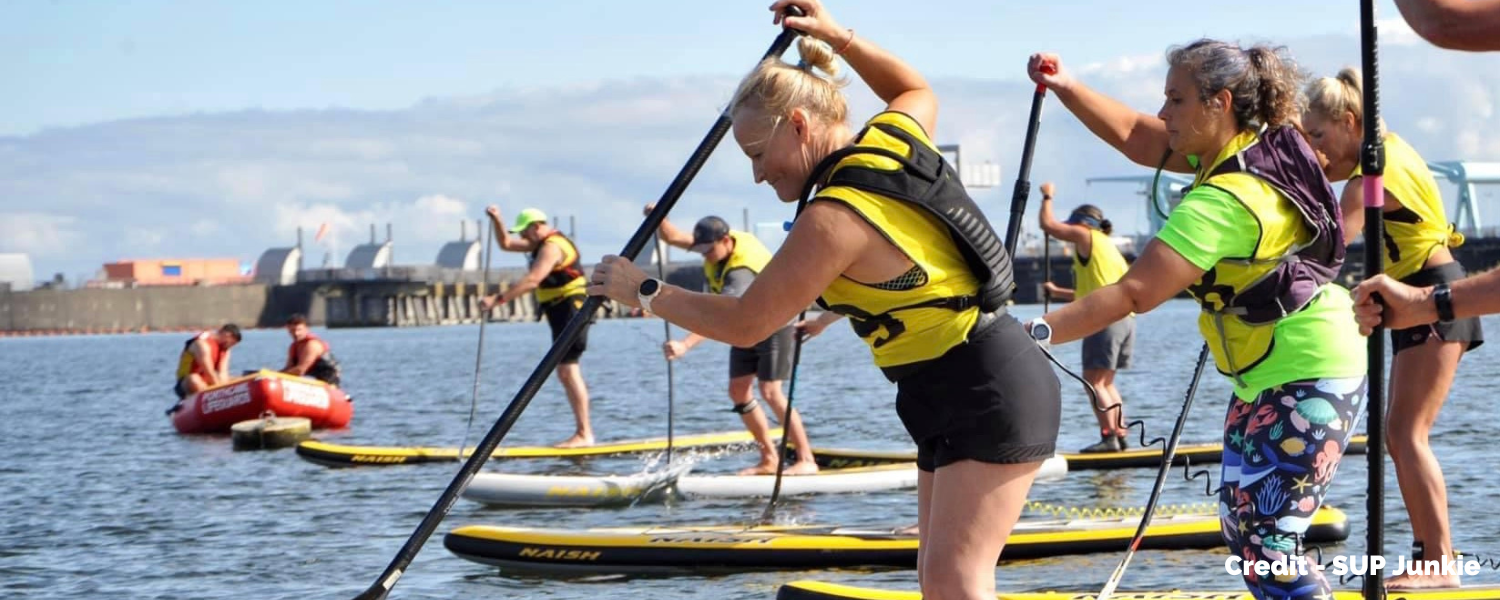 Last thoughts from Sarah Perkins. "Don't worry about where you might place in a race, but instead think of it as an adventure paddle with great safety cover. I entered one of my first races with my sister with us paddling SUP surf boards. We came dead last but laughed our way round the course. The GBSUP race scene offers lots of events and is very inclusive, with age categories from juniors to 60+. Take the plunge, enter a race, your 80-year-old self with thank you."
These ladies started on inflatable boards and had a great deal of fun competing in one of the many events around the UK. They have since transitioned to race specific boards. The fun is there, whatever board you race. It's all about the SUP community who are welcoming, especially to first-time racers.
We very much look forward to seeing you on the water and at a SUP racing event!